Mix – Don't Match – Wood Textures and Colors; Experts Across the U.S. Urge Diversity in Design
Still worrying about what goes with what when you're decorating? Design style leaders nix the match – "too boring" – in favor of mixing colors, wood grains, stains and textures throughout a room.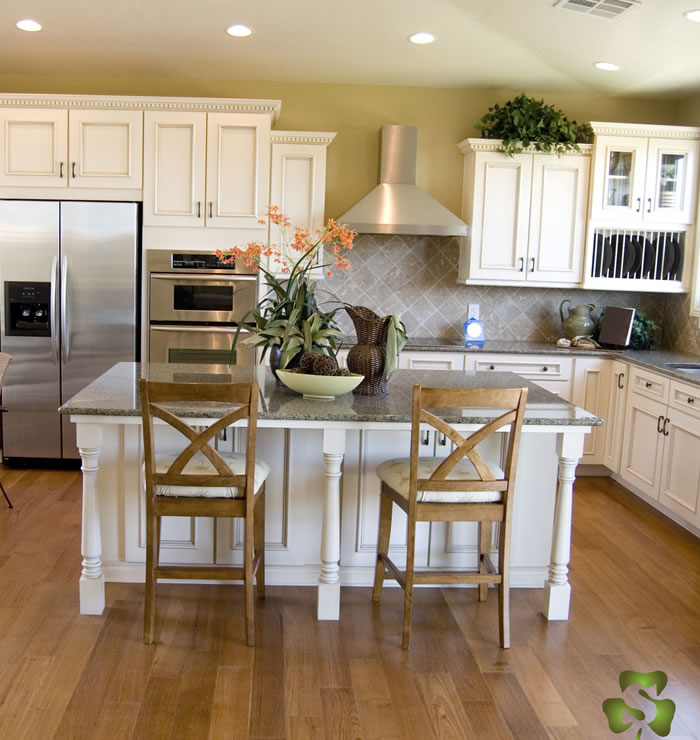 "Consumers think everything has to match, but the pros mix," says Laura Dalzell, owner and president of Cabinets & Designs, Inc. in Lexington, KY. She's a firm believer in combining, say, painted wood cabinets with cabinets in both natural wood tones and a wide range of colored stains. Mixing is the magic that brings a kitchen to life, believes the designer. "Different finishes create the 'furniture look' that's been the trend in kitchens for the last decade or so."
Across the country, California designer Debbie Nassetta nods agreement from her desk at RoomScapes Inc., a top design firm in Laguna Niguel. Debbie likes contrast. "If you have dark cabinets, make the floor lighter. With light cabinets, go the other way around," she advises. Her own home kitchen features cabinets in three different colors: stained cherry on one wall and the work island with the rest painted cream. Plus, there's a piece de resistance, a large armoire she painted black to make it stand out in the crowd.
At The Kitchen Source in Dallas, designer Alison Gillespie also praises contrasting colors. "We do our best not to match cabinets and floors." Alison advocates a mix of different species of woods, for example, a hand-scraped oak floor with maple cabinets in an opaque finish.
Elizabeth also advocates a mix of different wood species throughout the house, such as a rift-cut oak in a contemporary kitchen with birds-eye maple furniture in the dining room and olive ash burl pieces in the living room.
Even hardwood floors in adjacent rooms may vary "as long as you use some transitional device to make it work," Elizabeth says. Her favorite: a border incorporating the wood species or color from the floor next door. "Just make sure there's enough contrast to show you mean it," she says. "Near-misses don't make it."
What about wood mouldings in the kitchen? As a general rule, the designers agree that ceiling mouldings should be finished like the wall cabinets. Base and other mouldings usually follow suit.
The pros point out that painted mouldings make the space look lighter and more open, while stained wood creates warmth and coziness. New York designer John Buscarello is definitely a paint partisan. "Paint the mouldings!" urges John, whose kitchens have been featured at the National Kitchen and Bath Industry Show and in dozens of decorating magazines. "Painted ceiling mouldings make the ceiling look higher and the rooms look larger." Painting also downplays mouldings, he says, "and lets the wood of the cabinets be the star."
So stop worrying and let the fun begin! Mix it up! The experts have spoken.
From New Orleans and Cabinets By Design, Inc., designer Christina Sheets confirms, "Down here wood species don't matter." Given The Big Easy's penchant for preserving old things, many homeowners refinish rather than replace their vintage hardwood floors, Christina explains. The floors are then stained to complement – not match – new hardwood cabinets.
"We also like to mix cabinets in the same kitchen," she says. "The idea is to create visual contrast between the work island and the perimeter cabinets. Locally, popular mixes include cherry and cypress for cabinets, and butcher block on the work island.
"If the perimeter cabinets differ from the work island, we might put the same countertop material on both," Chris says. "But if the cabinets are alike, we'd use different countertops for contrast, say, granite and butcher block."
Arizona designer Elizabeth Spengler, who creates kitchens for Dorado Designs, Inc., in Oro Valley often uses one color for base cabinets and another for wall cabinets. Her own kitchen is a medley of contrasting woods and colors: red birch flooring; glazed oak base cabinets; perimeter wall cabinets painted granny apple-green, and a cherry-stained work island with a black glaze.