Cypress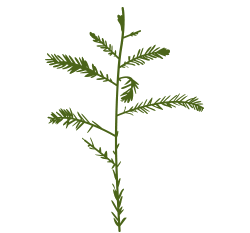 Taxodium distichum
Other Names: Bald, red,
or yellow cypress
---
DISTRIBUTION
Most cypress trees are native to the South. They are found primarily in wet, swampy areas along the Atlantic Coastal Plain from Delaware to Florida, and west along the Gulf of Mexico to the border of Texas and Mexico. Cypress also thrives along the Mississippi Valley from the Louisiana delta to southern Indiana.
GENERAL DESCRIPTION
The sapwood is pale yellow white with the heartwood varying in color from light to dark or reddish brown.
WORKING PROPERTIES
Cypress machines well, planes easily, and resists warping. Pre-boring at board edges will help prevent splitting. It nails and scores very well. It glues well, sands easily, and readily accepts finishes.
PHYSICAL PROPERTIES
Cypress is a softwood, but it grows alongside hardwoods and traditionally has been grouped and manufactured with hardwoods.
AVAILABILITY
Readily available.
MAIN USES
Exterior siding, shutters, shingles, trim, fence posts, interior paneling, moulding, millwork, cabinetry, flooring, furniture, beams, and columns.