For centuries, oak has been prized for its strength, resilience, and beauty of grain. It has remained a favorite hardwood for high quality paneling, flooring, and fine furniture. But like any plentiful, reliable, and easy-to-work-with product, oak is sometimes taken for granted. So I've been delighted to see that in recent years many leading architects and interior designers are using oak in ways that emphasize its glamorous decorative possibilities. Case in point: This sophisticated apartment by New York interior designer Bruce Bierman, which makes extensive use of the venerable wood. It's located in Palm Beach's legendary Breakers resort—about as glamorous a setting as you could want.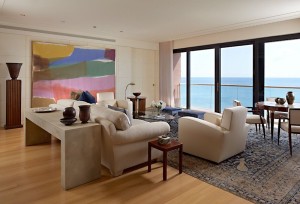 Bierman's brief was to create an apartment that was not only light-filled and comfortable but would also accommodate the owners' extensive collection of first-rate French Art Deco furniture. To unify the extensive spaces and provide a sympathetic background for the impressive furnishings, he installed rift-sawn red oak flooring that had been bleached and stained a subtle honey color. "We chose the flooring because it was the shade and type of wood often used in residences in 1930s and 1940s Paris, where most of the furniture comes from," Bierman says. In the living area, the floor helps integrate the singular elements that include a sumptuous early 20th century Tabriz rug on which sit pieces by several important French Deco designers: armchairs by Jean Adnet; a sofa by Jean-Michel Frank; a glass and bronze cocktail table by Alberto and Diego Giacometti; and a rosewood game table and chairs by Pierre Lardin. Presiding over the ensemble is a spectacular painting by Morris Louis.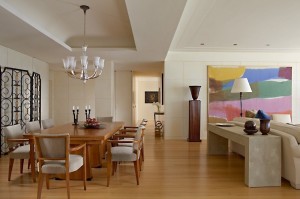 There's no rug in the dining area, where the honeyed expanse of oak is used to set off the furniture's sculptural qualities, almost as if it were art in a gallery. Chief among the exceptional pieces is a cherry dining table and chairs by Paul Dupré-Lafon. Above it hangs a gleaming silvered-bronze chandelier by Simonet Frères, while a delicate wrought-iron screen by Edgar Brandt and an imposing mahogany urn and pedestal by Jean Dunand hug the walls. These are covered in faux parchment squares whose texture, along with that of the shagreen-covered custom sofa table, is played off against the smooth sheen of the oak floor.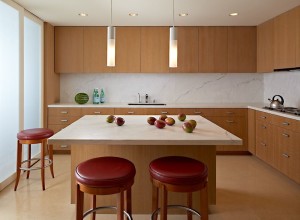 Since the internal kitchen lacks windows, it was a challenge to make the room feel as light and airy as the rest of the apartment. First Bierman installed a wall of frosted-glass doors to borrow daylight from the adjoining study. Then he laid tawny French limestone underfoot, matching the living room's honey-colored oak floors, and used creamy marble for the countertops and backsplashes. Against this warm, neutral backdrop, Bierman installed elegantly simple custom cabinetry in golden-hued rift-sawn cerused oak. He chose this finish, known in Britain as "limed oak," because it was popular throughout the Art Deco era and used by many of the distinguished French furniture designers represented in the apartment. Dating back to the 16th century, ceruse was a white-lead derivative originally used in cosmetics despite being highly toxic on human skin. (Queen Elizabeth I was a big fan.) Cabinetmakers discovered that when applied to porous woods such as oak, the white pigment fills and reveals grain lines without affecting the overall color. These days, nontoxic waxes are used to create the effect, which here not only evokes Deco glamour and craftsmanship but also provides a heightened sense of texture while setting off the oak's rich tone to best advantage. The cabinetry also contrasts beautifully with the custom stools, whose plush red leather seats, slender mahogany legs, and crisp metal footrests introduce another Art Deco-inspired note to the understated—yet glamorous—kitchen.
All images: Sargent Architectural Photography
Bruce Bierman Design www.biermandesign.com