Continuing Education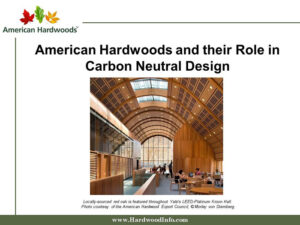 American Hardwoods and their Role in Carbon Neutral Design
This course presents the science surrounding hardwoods; the significant role they play in the environment and finally, as a material choice, discusses their importance in sustainable building.
Click here for more information on this CEU.
Thermally Modified Hardwood and its Role in Architectural Design
This course will provide information on the thermal modification process; discuss the environmental advantages and performance features of Thermally Modified Hardwood (TMH); and showcase Thermally Modified Hardwood in both outdoor and indoor applications.
Click here for more information on this CEU.
FROM FACEBOOK
The American Hardwood Information Center (AHIC), located at
www.HardwoodInfo.com
, provides advice from industry experts on decorating, care and maintenance, design trends, as well as flooring, cabinetry, furniture and millwork product information and specifications, to assist with building material selection for both residential and commercial applications. Step into the world of American Hardwoods and understand why products made from this sustainable and exceptionally beautiful material have been treasured for generations.
American Hardwood Information Center
24 hours ago
RECENT TWEETS
Freshen up your home with #RealAmericanHardwood decor!

Sign by #kendrickhome
Photo by @KellyAgrey

#AmericanHardwoods #wood #woodsign #woodframe #wallart #art #decor #homedecor #designtrends #interiordesigntrends #woodwork #woodworking #home #house #homedesign https://t.co/zEV7K5iolh