This season I'm simplifying my holiday giving for everyone, from baby to grandma, by focusing on gifts made of American hardwood. There's an enormous selection out there, ranging from the sleekly sophisticated to the charmingly rustic—and everything in between. Here are six items I've already got my eye on.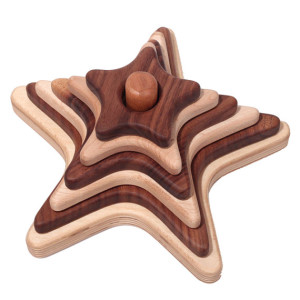 Seven Acre Toys, a small family-run company in Providence, Rhode Island, uses alternate layers of sustainably harvested maple and walnut to create the Star Stacker, an imaginative version of the classic stacking game. Sanded to silky smoothness and finished with a blend of beeswax and natural oil, each piece is perfectly safe in baby's mouth, where it's inevitably headed.
Star Stacker in maple and walnut, $57, sevenacretoys.com.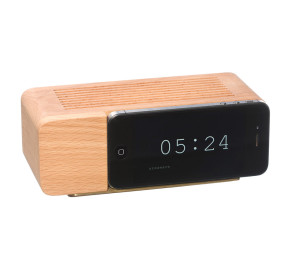 Made of solid beech, the Alarm Dock from Areaware is a witty riff on the faux-wood GE clock radios that sat on every bedside table back in the late 20th century. Perch an iPhone running a clock app on the dock and you've got a sleek 21st century version of the endearingly clunky old timer.  A USB connector can be threaded through the wood block, allowing the iPhone to recharge while docked.
Alarm Dock in beech, $35, areaware.com.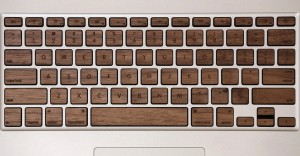 It takes nimble fingers and patience to apply self-adhesive Lazerwood Keys to your Apple keyboard, but the look and feel of natural wood under your fingertips make it worth the trouble. The symbols and characters are laser cut onto the individual pieces, which come in walnut (shown here) or cherry and are handcrafted in Seattle.
Lazerwood Keys in walnut or cherry, $45, shop.lazerwood.com.

Classic 1950s sunglasses get even cooler when they're framed in wood. The Canby—a signature handcrafted style from Portland, Oregon–based workshop Shwood—comes in such distinctive hardwoods as oak (shown here) and walnut. Options include these movie-star ready grey lenses from Carl Zeiss.
Canby Wooden Sunglasses in oak or walnut, $145, shwoodshop.com.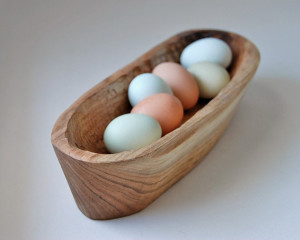 Hand hewn from sustainably harvested, Catskill Mountain butternut—a type of white walnut—and hand-rubbed with food-safe, organic walnut oil, the Curio Bowl from Gray Works Design, a small artisanal workshop in Woodstock, New York, is a beguiling blend of rustic aesthetics and down-home practicality.
Curio Bowl, $100, etsy.com.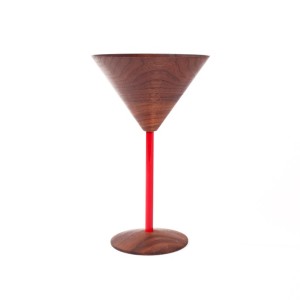 Inspired by the clean, minimalist lines of Danish modernism, the WUD Martini Glass is handcrafted by David Rasmussen Design in Carbondale, Colorado. The walnut cup, which is treated with an FDA-approved sealant, actually insulates your drink, keeping it cool longer than traditional glass. And the powder-coated aluminum stem adds a pop of holiday color.
WUD Martini Glass in walnut, $59, drdcustomfurniture.com.
I can't think of a cheerier way to send you Seasons Greetings and wish you all a Happy New Year!