At the 2016 London Design Festival, the American Hardwood Export Council (AHEC), in collaboration with Alison Brooks Architects and top engineering firm, Arup, is presenting 'The Smile,' an urban installation "that showcases the structural and spatial potential of cross-laminated (CLT) hardwood, using American tulipwood."
The landmark project, designed by Alison Brooks Architects and made of construction sized panels of hardwood CLT, is a 3.5m high, 4.5m wide and 34m long hollow, curved, rectangular tube. This first ever hardwood 'mega-tube,' which can be walked from end to end, will be on display from September 16 through October 12 at the Chelsea College of Arts, London.
For AHEC, 'The Smile' is "one of the most important developments in a decade of research and development into structural timber innovation."
For the hardwood industry, the unique structure is proof positive that hardwoods have a significant role to play in construction.
For architects and engineers, this new CLT product has the potential to transform timber construction.
To learn more about 'The Smile,' visit www.americanhardwood.org.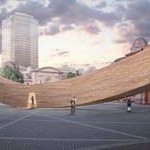 'The Smile'
designed by Alison Brooks Architects