One sure fire way to refresh an interior is to put in new hardwood flooring. But for most of us, the idea of replacing an entire floor seems overwhelming, unless you're lucky enough to find a good, reliable, reasonably priced contractor to do the job. There are now several websites to assist homeowners find vetted building professionals in their part of the country. I've been particularly impressed by
Sweeten
, a free service in the New York City and Philadelphia metropolitan areas, that not only helps clients find the best local design and construction experts for their projects, but also provides a lot of valuable information about whatever type of home renovation is under consideration, including floor renovation. Here are three examples of their flooring work that caught my eye.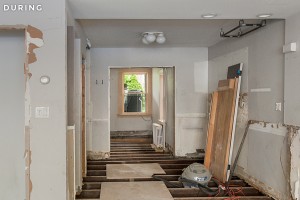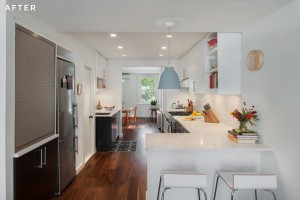 "During" and "After" pictures of a Williamsburg, Brooklyn, kitchen renovation that included installing handsome new walnut flooring. Photographs courtesy Sweeten
A young couple, first-time homeowners of an older 1,800-square-foot, two-story townhouse in Williamsburg, Brooklyn, needed a general contractor to renovate their outdated bathroom and kitchen. So they posted a
description of their project
, including its current condition and the scope of work required, on the Sweeten website to get matched with an appropriately skilled local contractor. From the list offered, they chose sustainability design-build specialists
Ecostruct
, who worked with the couple on everything from the overall design concepts to the practicality of materials, before beginning construction on the four-month project. The entire process is documented in text and images on the Sweeten website, but I was particularly taken with the handsome new knotty walnut floors in the kitchen—a 1,000-percent improvement over the bland beige tiles they replaced.
The renovation of this Brooklyn kitchen involved replacing an area of "before" floor tile with new "after" hardwood parquet matched to the original, which is no longer produced. Photographs courtesy Sweeten
Many older New York apartments have hardwood parquet floors. Such was the case in a
Prospect Heights, Brooklyn, residence
, except for the kitchen area, which had been tiled off, chopping up the open-plan living space and creating a clunky raised border to trip over. When the apartment owners decided to upgrade the kitchen, Sweeten matched them up with
Alan B.
, a builder who, the client says, "was willing to wait through the time that we were re-designing things." The final plan called for tearing out cabinetry, creating multiple open and closed storage, and installing an island. But to my mind the floor is where Alan and his team excelled: Thanks to their painstaking work cutting and staining new oak tongue-and-groove planks to match the original parquet, which is no longer available, the kitchen now flows seamlessly into the living area.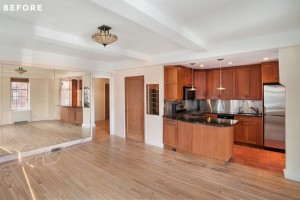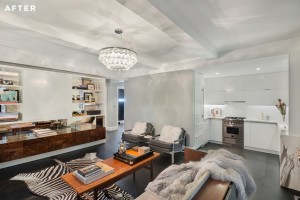 "Before" it was renovated, this Manhattan apartment had light-stained oak floors, which were given a dark finish to create an "After" interior of great sophistication. Photographs courtesy Sweeten
The owner of this high-style 900-square-foot apartment in Manhattan's iconic London Terrace building is a friend of Sweeten's founder and CEO, Jean Brownhill. She so admired how the homeowner and his builder worked together to completely transform the space that she recruited the contractor, Gregorio E., into her referral service. Gregorio's team removed the kitchen island, installed white lacquer cabinets, and white marble countertops. The homeowner designed the living area's custom built-in millwork, which combines a high-gloss-lacquer section with a walnut storage unit. He kept the original oak floors but transformed them with a matte black finish. The result looks natural and effortless now, but it took the homeowner more than six tries, and eight coats, to get the exact stain effect he wanted—well worth the effort, in my opinion!
Sweeten
195 Chrystie Street, #502H
New York, NY 10002
Sweeten.com
Sweeten makes free general contractor referrals in the New York and Philadelphia metropolitan areas. They typically focus on major renovations starting at $15,000.